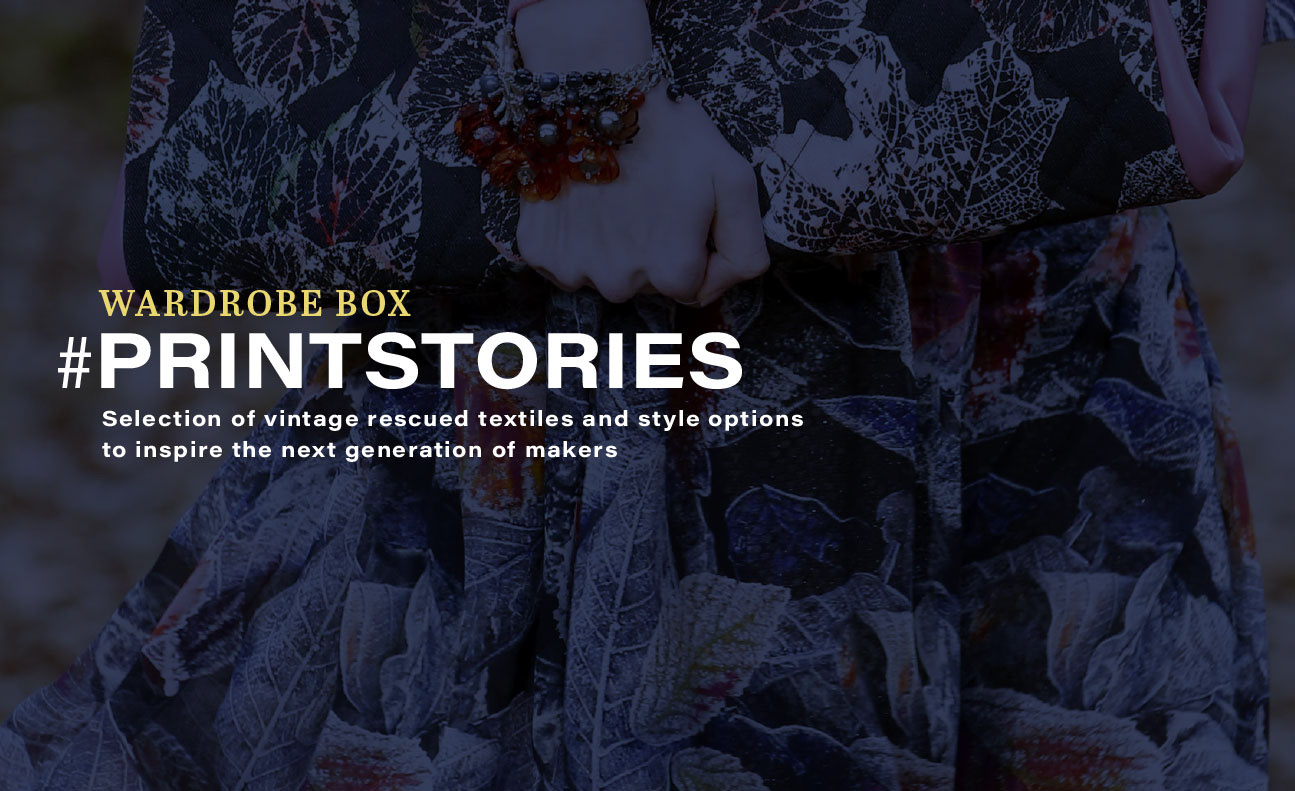 From the beginning...

Most people, including myself, wouldn't expect a lot of textile waste from a small city like Dayton, Ohio. Through my research, I discovered various manufacturing facilities close in proximity, and throughout the lean years, many have scaled back operations or have shut down.  
Dayton Sewing Collaborative
, a micro-manufacturer, provided job retraining received textile waste from those businesses, and from individuals donors that no longer had use for fabrics passed on by loved ones. The below image shows a small sample of their donations.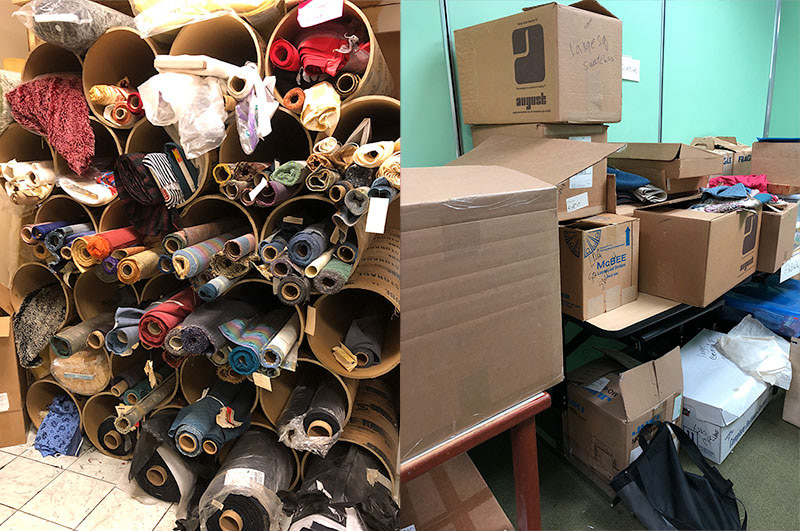 Setting goals
I was so inspired by the selection of vintage prints that Initially, I wanted to curate the materials and offer them as wardrobe boxes, and to produce simple products. After going through all the donations, there were not enough yardage to accomplish those tasks. Instead, I decided to share my creative process to inspire other makers to create beautiful products. It's common to see finished projects but rarely the process behind design decisions.
Fashion is always designed a year in advance, and fabric mills create surplus supply of fabrics based on seasonal trends. Using rescued or upcycled materials, your resources are limited, often a hodgepodge of colors and styles. It is more time and labor-intensive to find coordinating materials. 
Figuring out how to organize
The boxes of donations contained a mixture of vintage fabrics and random materials, reminiscing of a fabric or Etsy store (picture below). The process of finding coordinating materials should be more inspiring. 
Individually, there were some beautiful prints, but as a whole, they look dated and dull. Being a
curator
, designer, I always look for inspirations; it's like piecing together a puzzle.
Finding inspirations
I grabbed the prints that caught my eyes and took pictures intending to catalog them for sale.  Most of the materials were under 5 yards and decided it wasn't worth the effort.  Sorting through the photos always open my mind to new ideas as I try to reference the visuals to other inspirations in my head.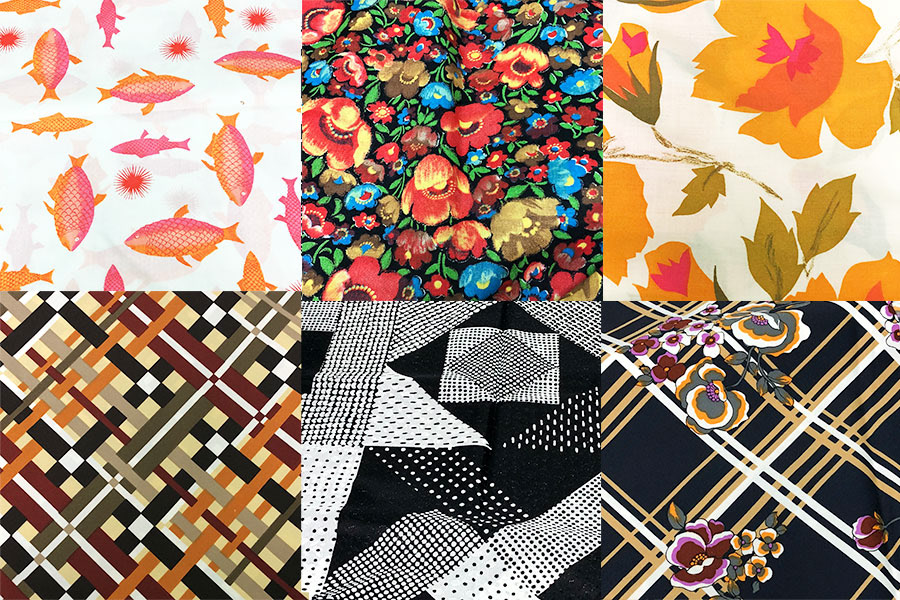 With anything fashion-related, there are always
trend colors/prints
for each season. I searched for Fall / Winter 2018 fashion trend colors (picture below) as a starting point. There are a lot of
resources
out there providing fashion forecasts, some going a year or two in advance and most tell a story about the color palettes and print styles. Trends come and go but often are repeated, especially vintage styles, as we tend to romanticize things in past decades over the tacky trends of recent years. Knowing what looks good together can also help you define your style as you can be more adventurous as you want and eventually 
can break the rules
.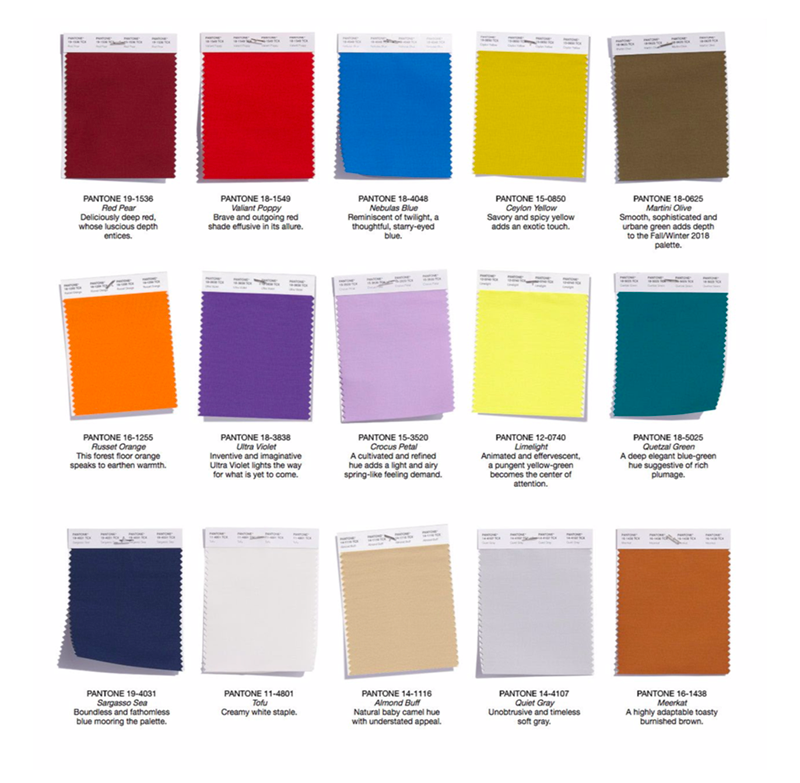 Connecting the inspirations
Inspiration is all around us, sometimes it is not visual but from significant world or cultural events. Those are the things that can
shape ideas and influence designs
. Looking outward and consider elements outside your normal range can help you see form new ideas. 
I use 
Pinterest
 often and love seeing street styles over fashion runways. Those are the people who are more adventurous with their style and wear it with confidence.  I focused on searching for "street fashion from collections bold mixed prints". Once I found the images, I scanned for commonalities with the vintage prints on hand sorting by colors, print styles and types of materials. 
Below are some samples of how prints are mixed and matched in bold ways following a common color palette. Provide style and new silhouette inspirations, mixing vintage prints with solid colors. 
If you follow trends, using the color palette as a guide to coordinate is very helpful, and finding your inspirations can help bring things together. This process is the basis of a mood or storyboard.  Keep in mind that there are
color
and
design
theories that are considered before every design decision is made.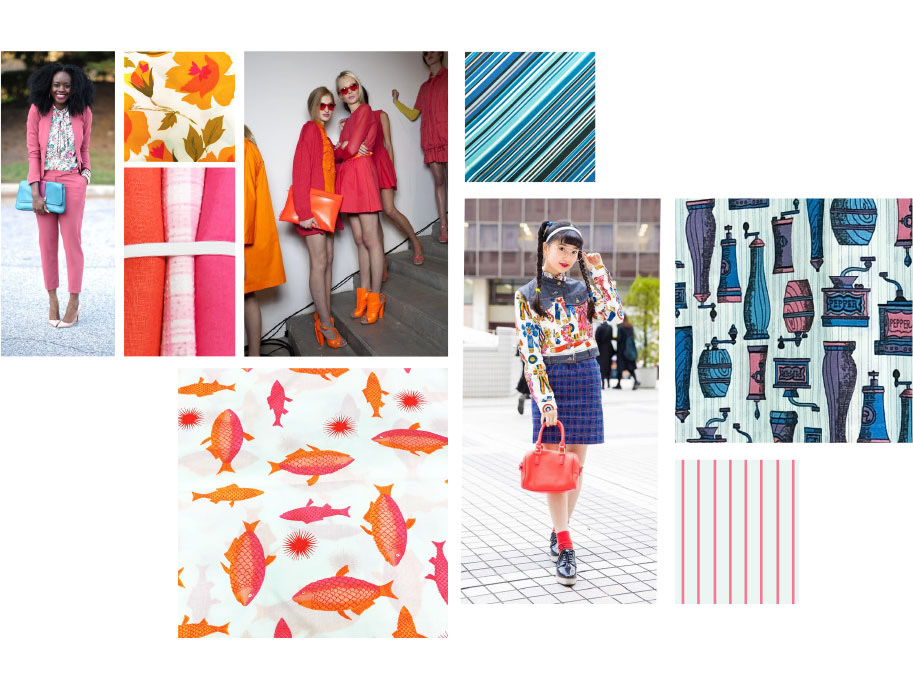 Product ideas from Textile Waste
Another possible revenue stream is to produce products from the stash of fabrics. I looked for simple on trend product inspiration that could be made with the materials available. The goal was to create products that does not require pattern size grading as they wouldn't have to create various sizes.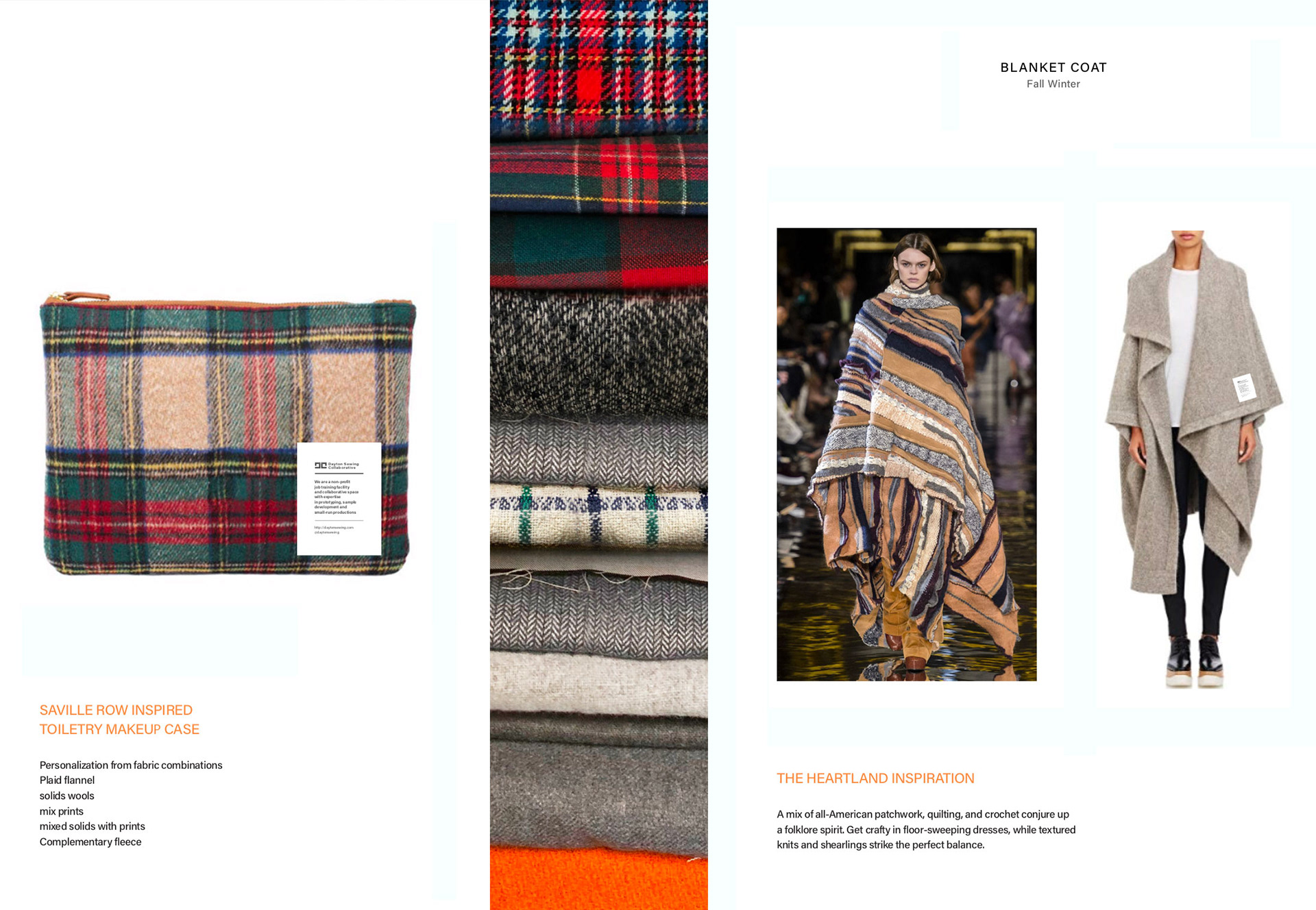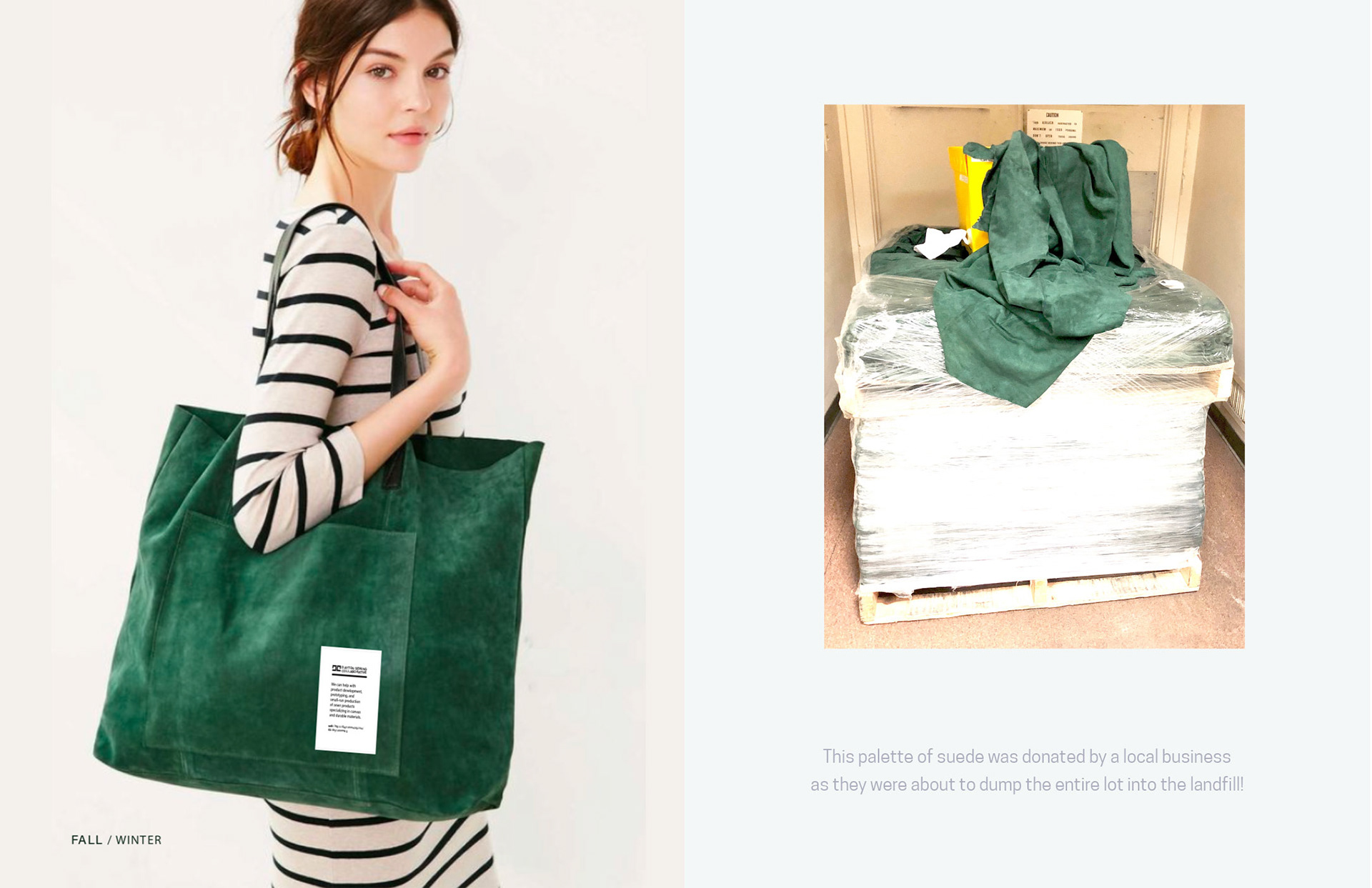 Inspiring a community
DSC participates in market events and fundraisers. Some of the inspirational ideas came from the materials available.  Time was a factor in determining what type of DIY activity would be suitable for a market, and finding events attracting a younger audience was vital as it helps with increasing membership.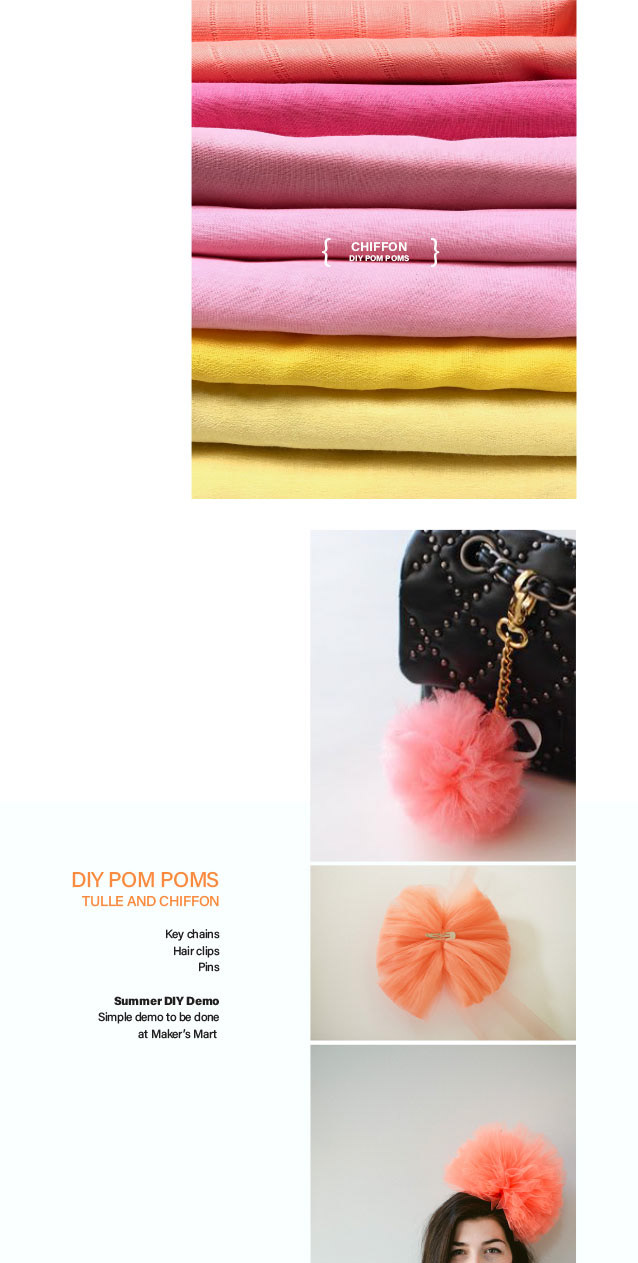 Containing DIY instructions and materials. Zero waste making! Made in association with Dayton Sewing Collaborative in 2018-2019