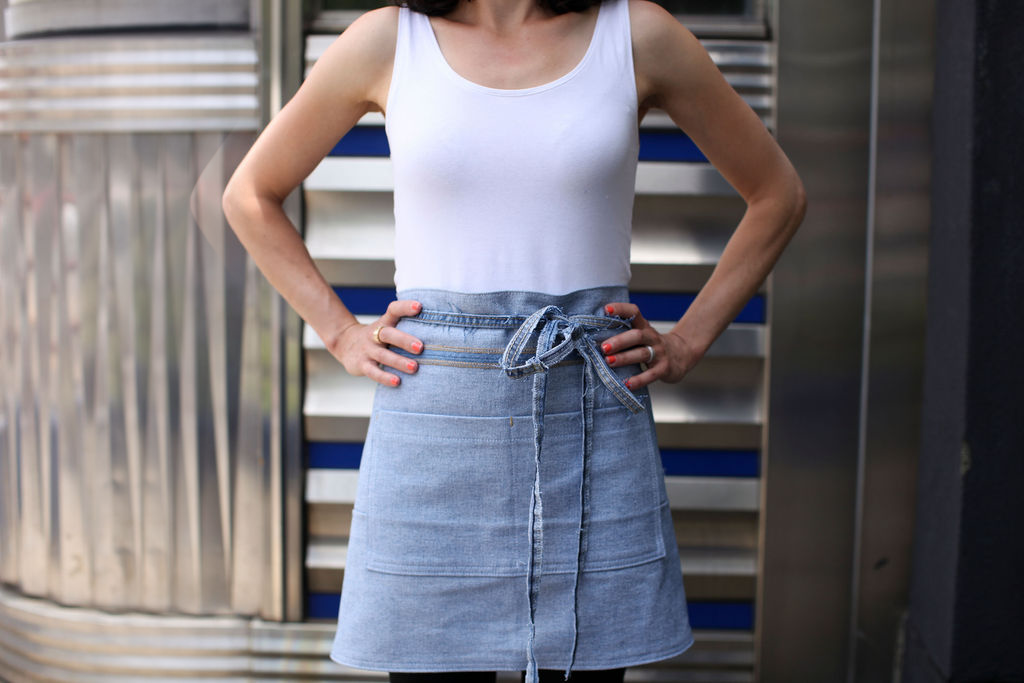 1) Research and finding your inspirations
Thorough research on your target market, trends, demand, and competition should happen before you start any design or purchasing of materials.
 Google trend
 is an excellent tool to assist with some of your research, as rich data from Google's keyword searches are presented based on popularity by periods and regions.
Once your analysis is complete, the gathering of inspirations can help guide your design and style further, whether it's minimal, funky, or traditional. You can organize all your inspirational images into a single layout, typically known as a Moodboard. Here are some tools that can help with that
 Adobe Sparks
,
 niice
, but my goto app is
 Pinterest
, its free, as it's easy to discover and organize your inspirations efficiently. You can also use Pinterest as a marketing tool to launch your finished product!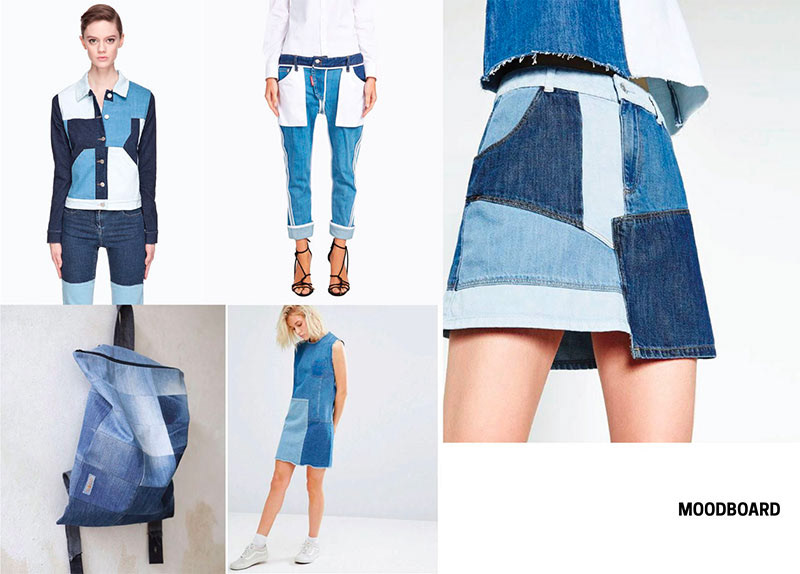 2) Define and Design
Identifying your requirements by knowing the intended use and the ideal customer will help you create meaningful outcomes for your market. 
Gem City Apron
 has plans to sell to local coffee shops with an add-on opportunity for brand customization; since servers will wear these aprons, bigger pockets were needed to store devices, menus, and personal items.
When defining your design aesthetics and style, you should reference your moodboard often to align with design consistency. For this apron, the desired outcome is a minimal design as fewer seams are required to keep production costs down and to give clearance for branded customization. Upcycled products usually require some patchwork to create the textiles.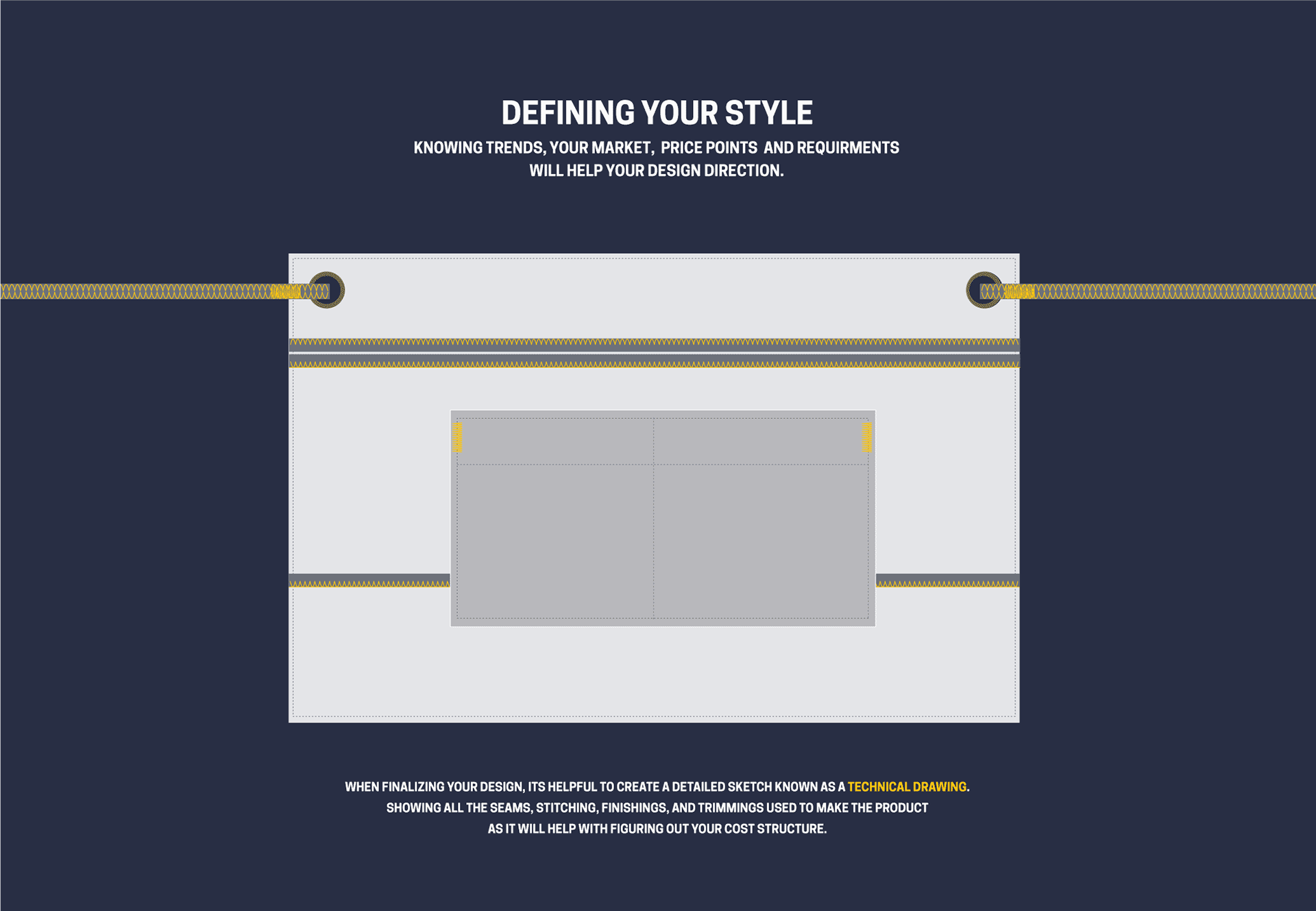 The final design is made up of three horizontal panels with exposed seams showing a hint of pop color. The odd number of panels gives the design visual interest while maintaining a beautifully minimal design; the centered pocket adds a sense of balance within the overall apron. A simple way to produce variants is to use high contrast color serging threads with the different denim washes from light to dark.
3) Finding the Right Denim Material.
Denim
 has always been a cotton warp-faced textile ever since its inception; the addition of spandex, elastane, and polyester was introduced in the '80s to give way for
 new body-hugging silhouettes
. A rule of thumb, you always want to use the same tensile strength fabrics within a single garment. Mixing stretch with non-stretch materials will not yield good results.
For this apron, there wasn't a need to use stretched materials, and women's jeans contain too many variations of mixed fibers that would require more work to source 100% cotton jeans, thus eliminating them from our choice.

An excellent way to find what you are looking for is to thrift for yourself, based on my experience, I have noticed some stores with an unusually large selection of men's cotton jeans size 40 +. Rarely will you find men's skinny jeans in those sizes, so the team selected them to make the prototype as we hypothesized there wasn't much demand for larger size men's jeans.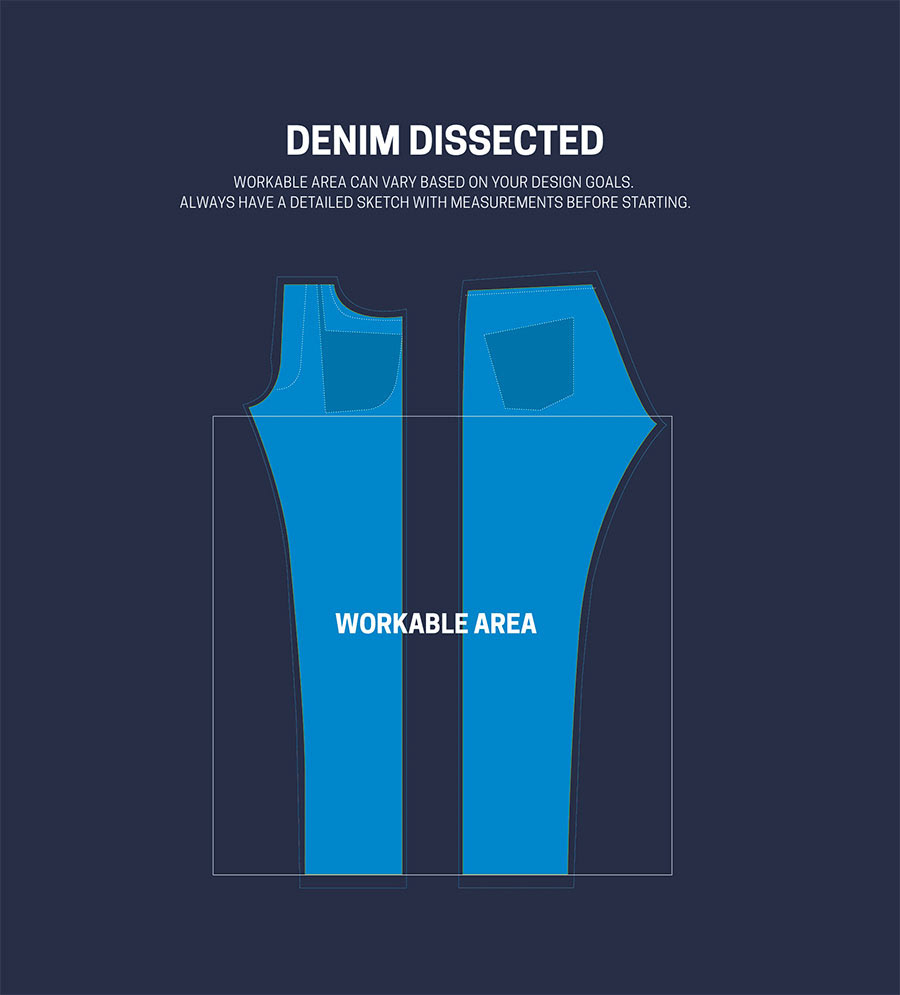 The challenge with upcycling is the limited workable area within a garment, as shown in the above diagram. Your final design can help determine the usable space for making your upcycled product. Depending on your project, style, and aesthetic, it is possible to use the entire pair of jeans without producing any waste. Proper planning and imagination can help to maximize usage.
4) Prototyping
The approach for making this prototype is to use one pair of jeans per apron, so the size of the apron panels needed to fit inside 10" leg panels, with enough materials left for facings and other details. As a first step, wash and prepare the jeans to be dissected, cutting as close to the serged side seams as possible until the usable area separates from the rest of the jeans. You can employ various methods of dissecting a garment based on your needs and design and reversing the denim to use the backside as the front gave the apron a fresher look. The inside of the jeans always appears to be cleaner and resembling new materials.
The denim leg seams don't often get used as they are bulky and hard to sew with typical home machines. Since these aprons have ties, I experimented with using the seams as the apron ties as I have saved a bag full of them. The esthetic matches with the reverse seams of the apron body, creating a deconstruction look. Using the jean seams increase the percentage of upcycled material in this apron closer to 90%.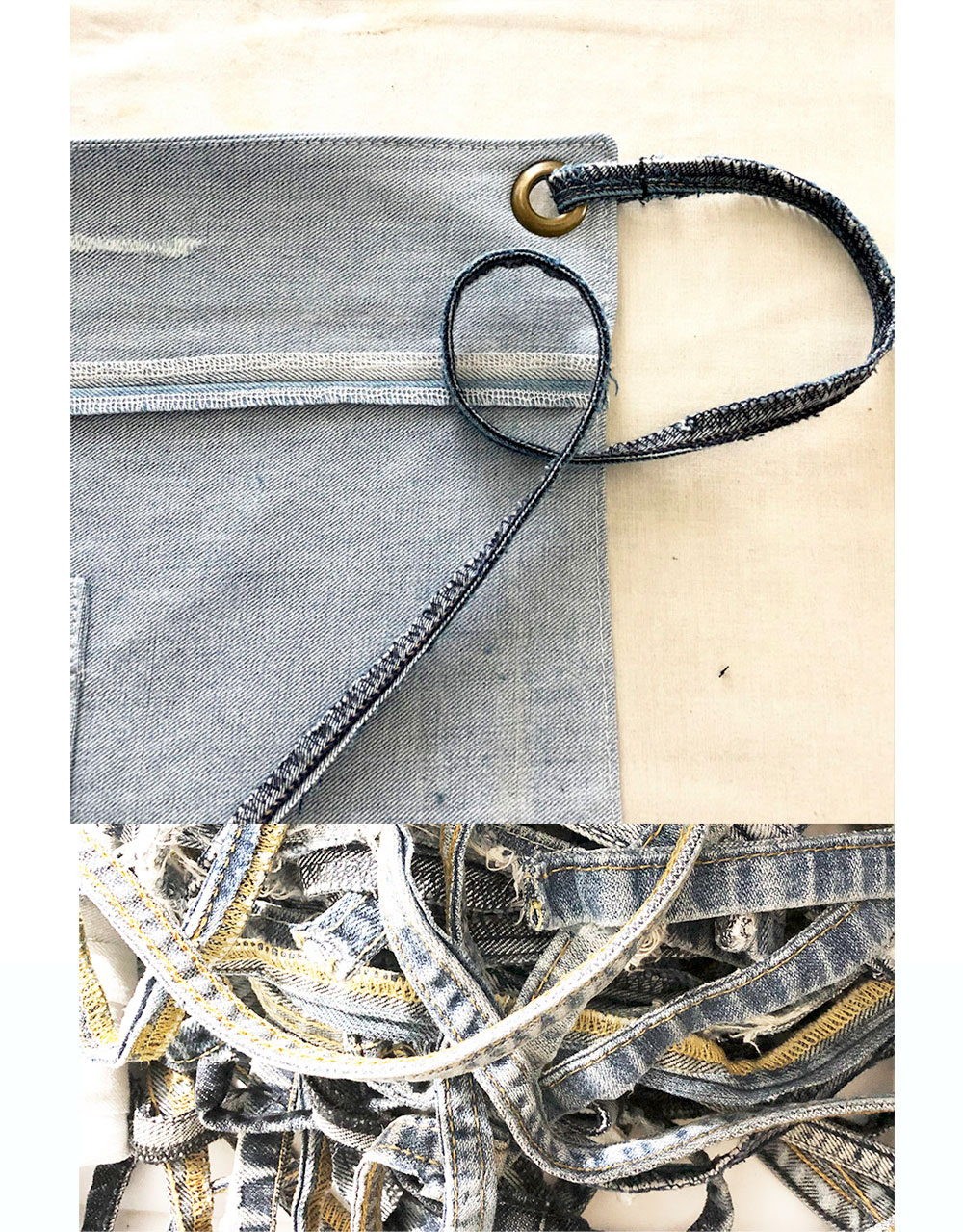 5) Sourcing + Production: A collaborative effort

Sourcing usually requires a lot of time, mainly searching for preloved garments in bulk. Luckily there are more and more startups specializing in textile and clothing rescue. The ladies from
 Gem City Apron
 approached
 Helpsy
 to inquire about large men's jeans. Little did we know, the fantastic team from Helpsy said they were excited about finding buyers for their big sized jeans and were excited to start this partnership.
Production of the aprons was done at 
Sew Valley
 in Cincinnati as they did a fantastic job with each apron. When finding the right manufacturers, you should always ask the right types of questions and make sure their sustainable practices are in line with your mission.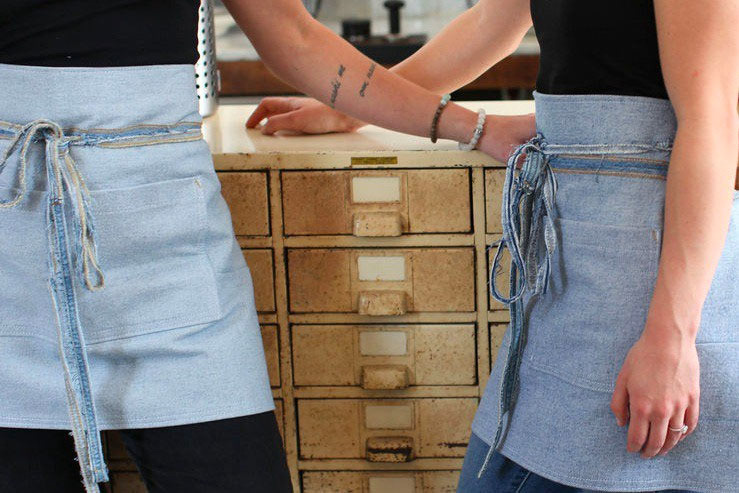 6) What to do with textile scraps?
Upcycling isn't perfect, as it does yield some waste. Luckily many startups are accepting fabric scrap as donations — as they turned into home insulation. All scraps from this prototype brought to
 Goodwill textile recycling program
.
There are many ways to disposing of textile waste, as more local businesses are offering recycling programs, always check your local thrift store for assistance, or better yet search for "textile recycling programs."