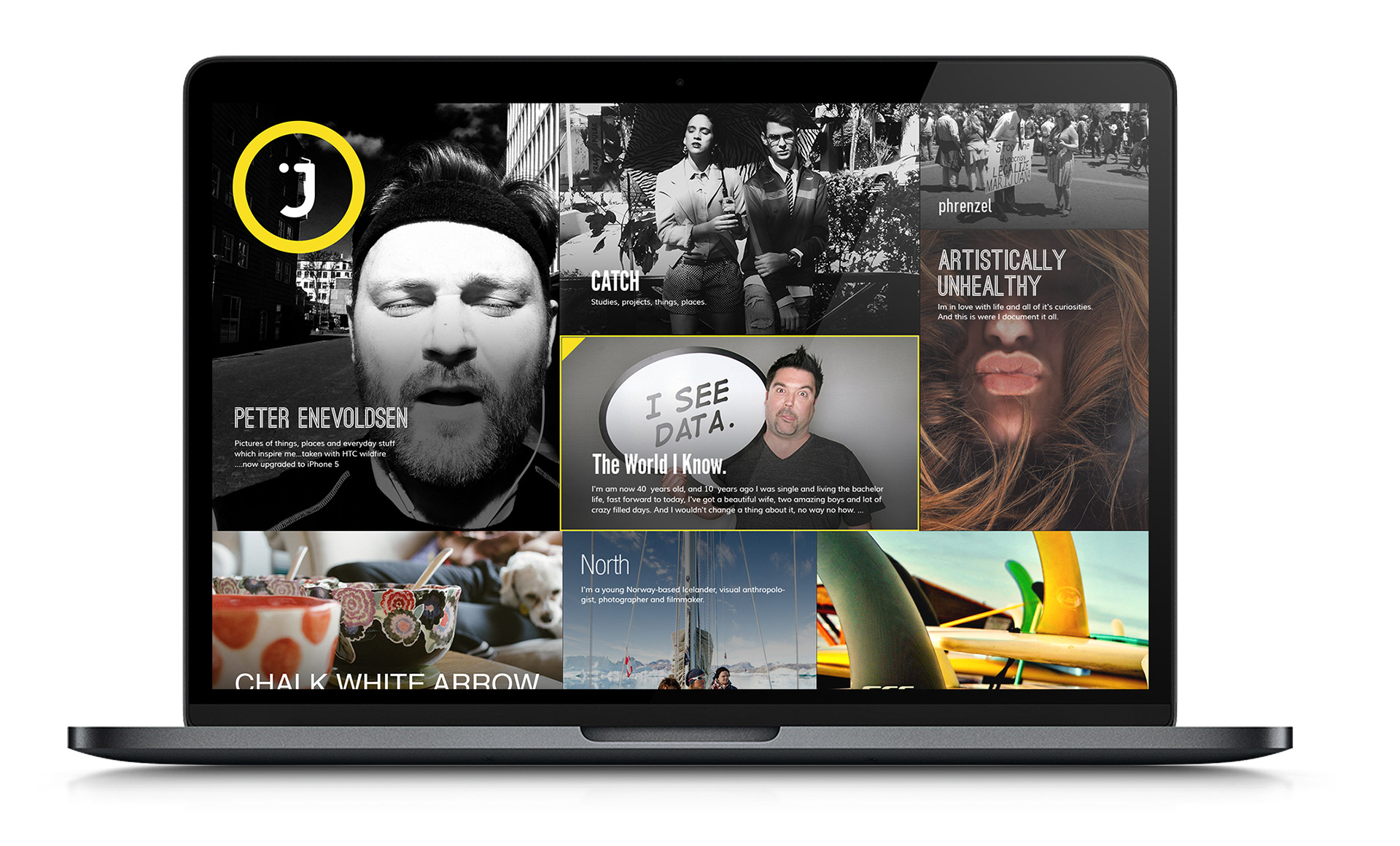 I joined the team as Creative Director/Lead product designer, where I applied an iterative approach to defining the brand design, product experience, and design. The team collaborated and successfully launched multiple iterations of the desktop platform with native iOS behaviors and, eventually, an iPhone app.​​​​​​​​​​​​​​​​​​​​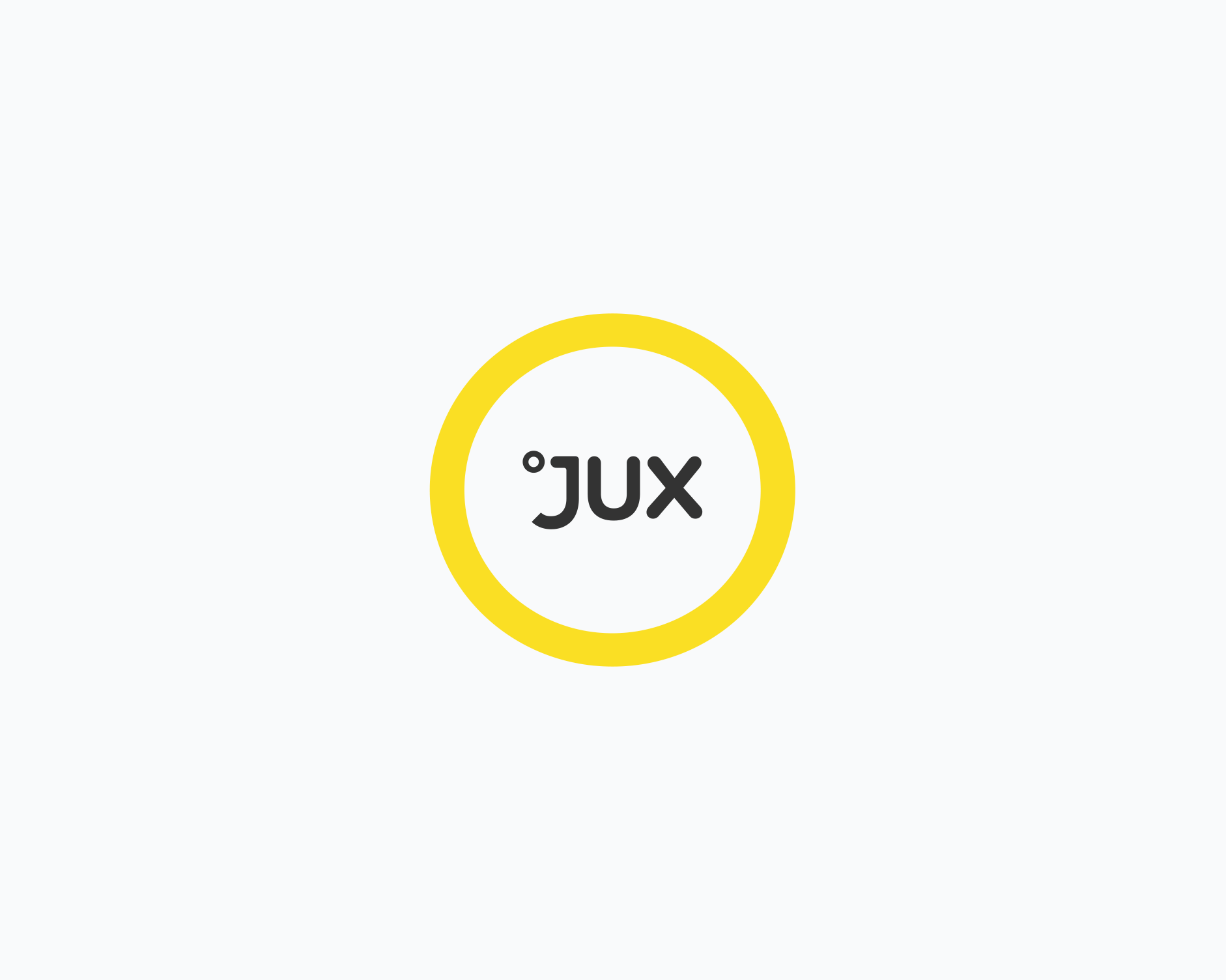 Jux started as a social site builder, but the product lacked a completion rate, with a stagnant growth of 26k in memberships in its fifth year. A push to revamp the existing product as there was a push to increase membership.  After observing user creations, taking inventory of online resources, user support materials, competitive research, and speaking with team members, we focused on identifying the core problems.
1. Lack of inspirational or instructional content for Jux's galleries and social channels. 
2. Site creation process too complex for the general consumer, requiring more knowledge and support. 
3. Users were primarily interested in the instant gratification of the fastest creating component modules. 
4. Already a lot of significant competition in the space: Squarespace, WordPress, Shopify.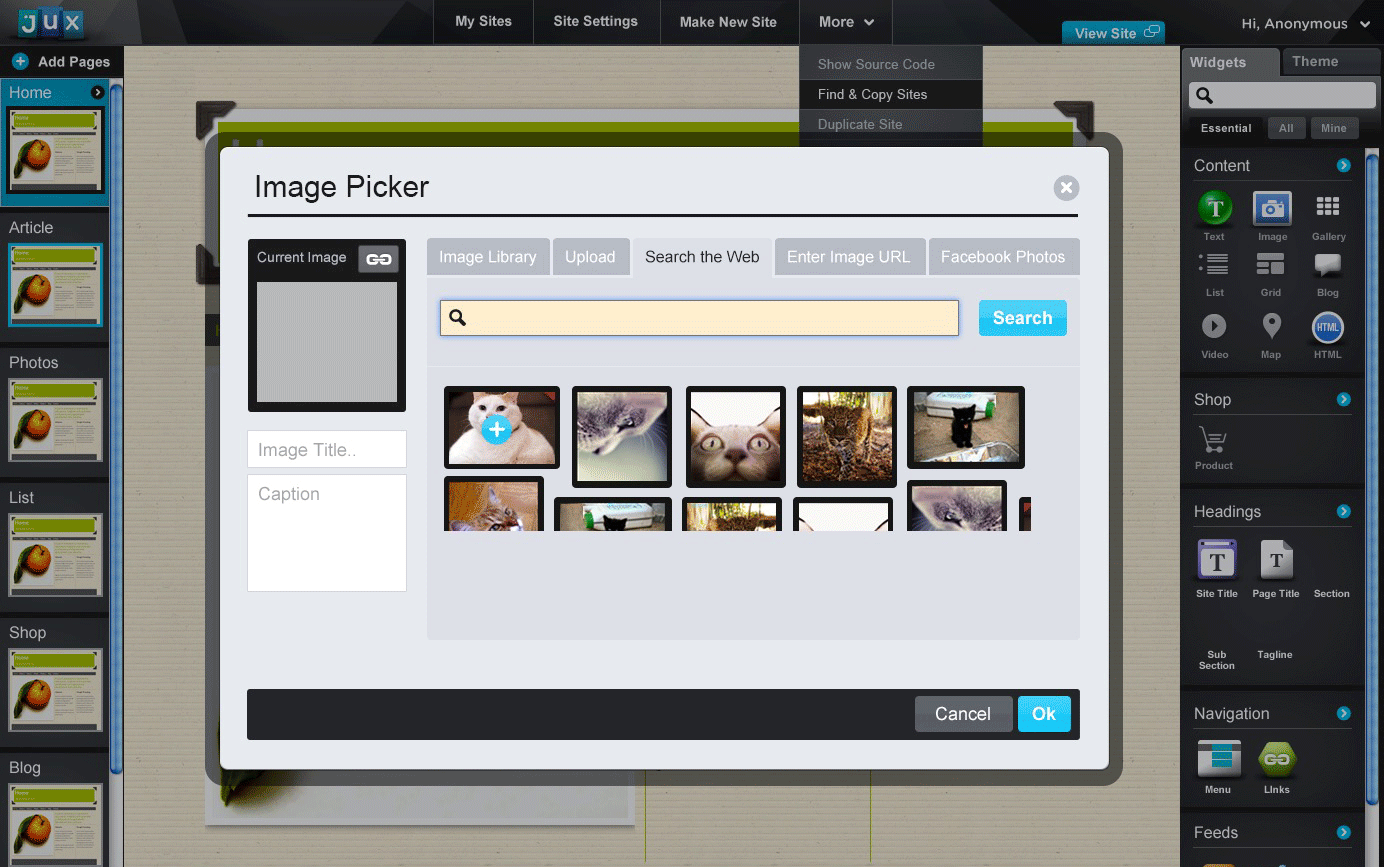 Solution to Keep it Simple
While the initial product had some flaws, Jux continued to be a platform for user-generated content. The product experience needed to be simplified, with limited customization features that would allow users to create instantaneously. This construct led to the development of "Blockquote," a meme-inspired post. The team designed and implemented six additional ways for users to create content. They included pictures, slideshows, countdowns, articles, Location (Google Map API), and videos (YouTube + Vimeo). ​​​​​​​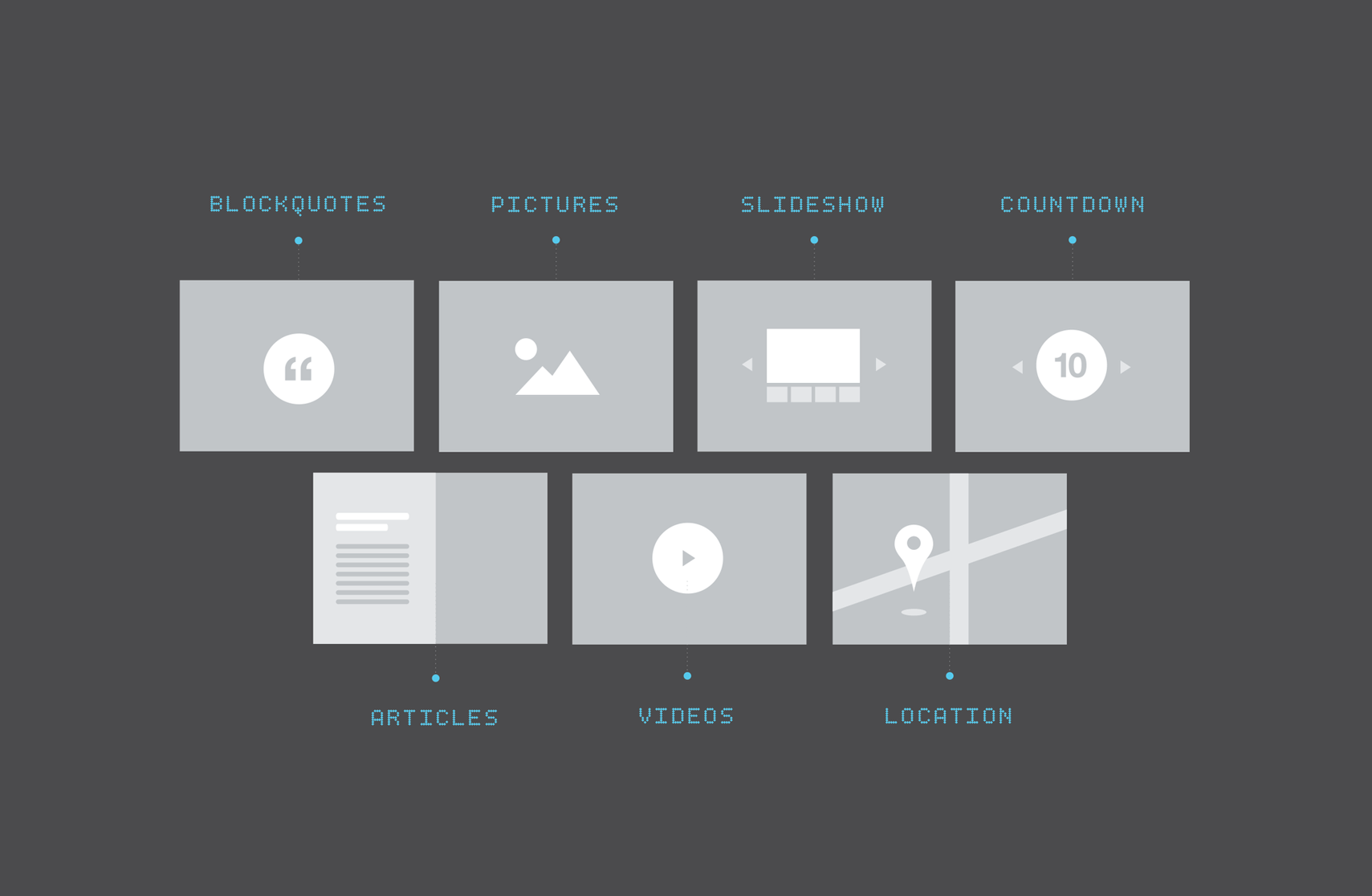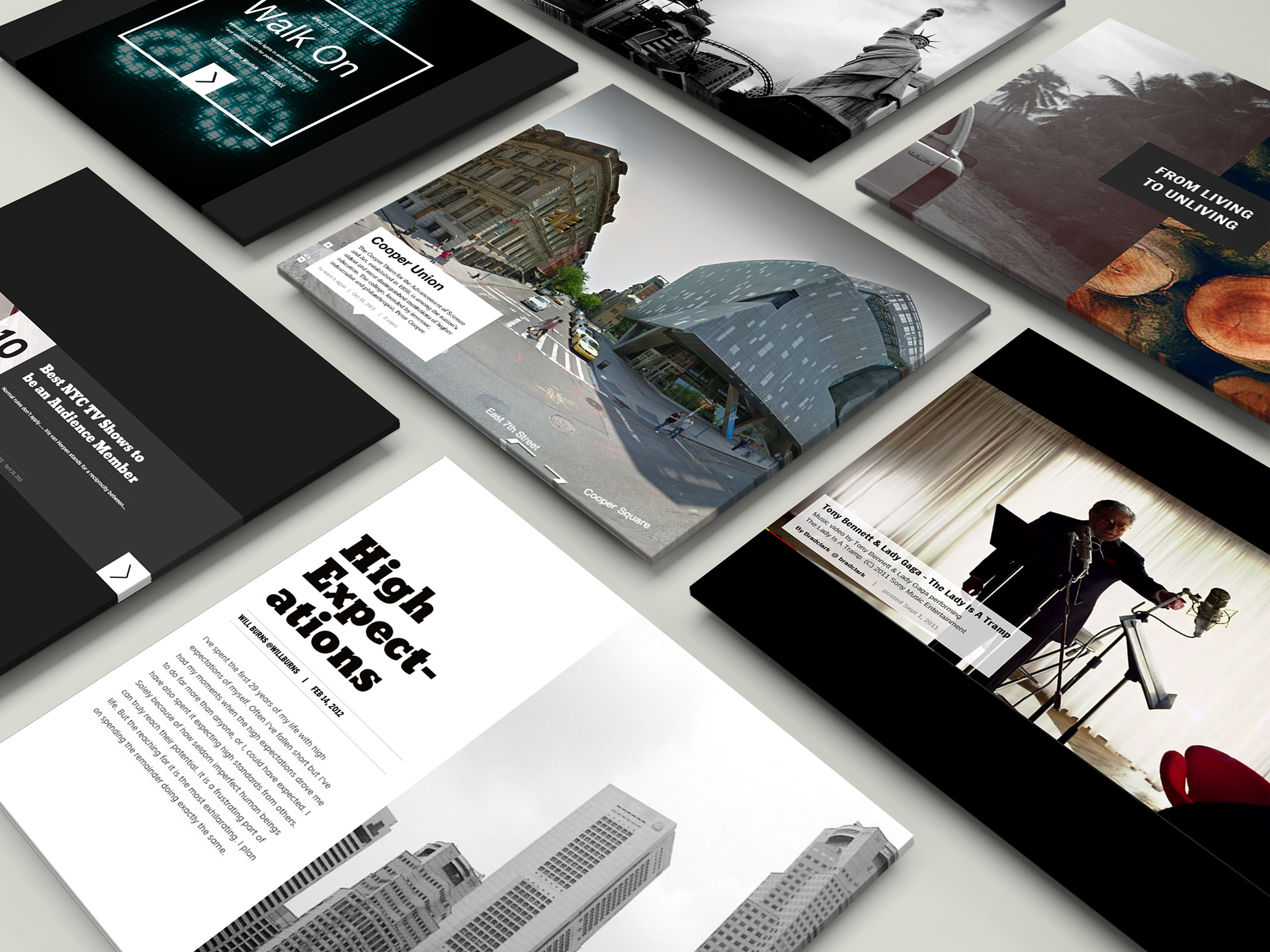 The UI was reduced into collapsible and draggable tool palettes allowing for an unobstructed creation while retaining the cinematic experience. The palette offered pre-sets of fonts and styles, making it easier for users to create more inspirational content.
The new product experience needed a front page gallery to showcase user creations. Since each post had some editorial design quality, the analogy of a magazine stand or poster wall was a perfect inspiration to create the user gallery.​​​​​​​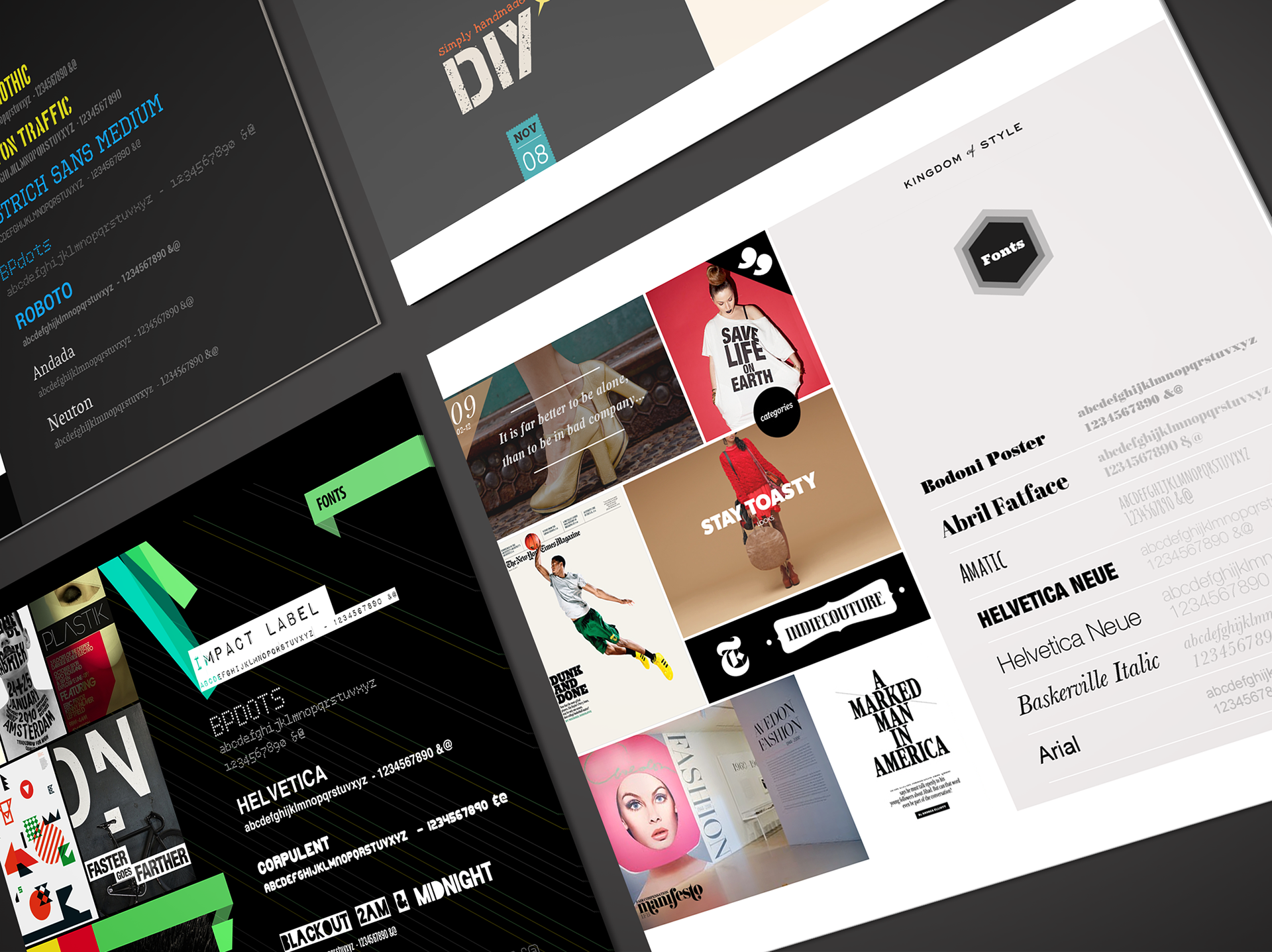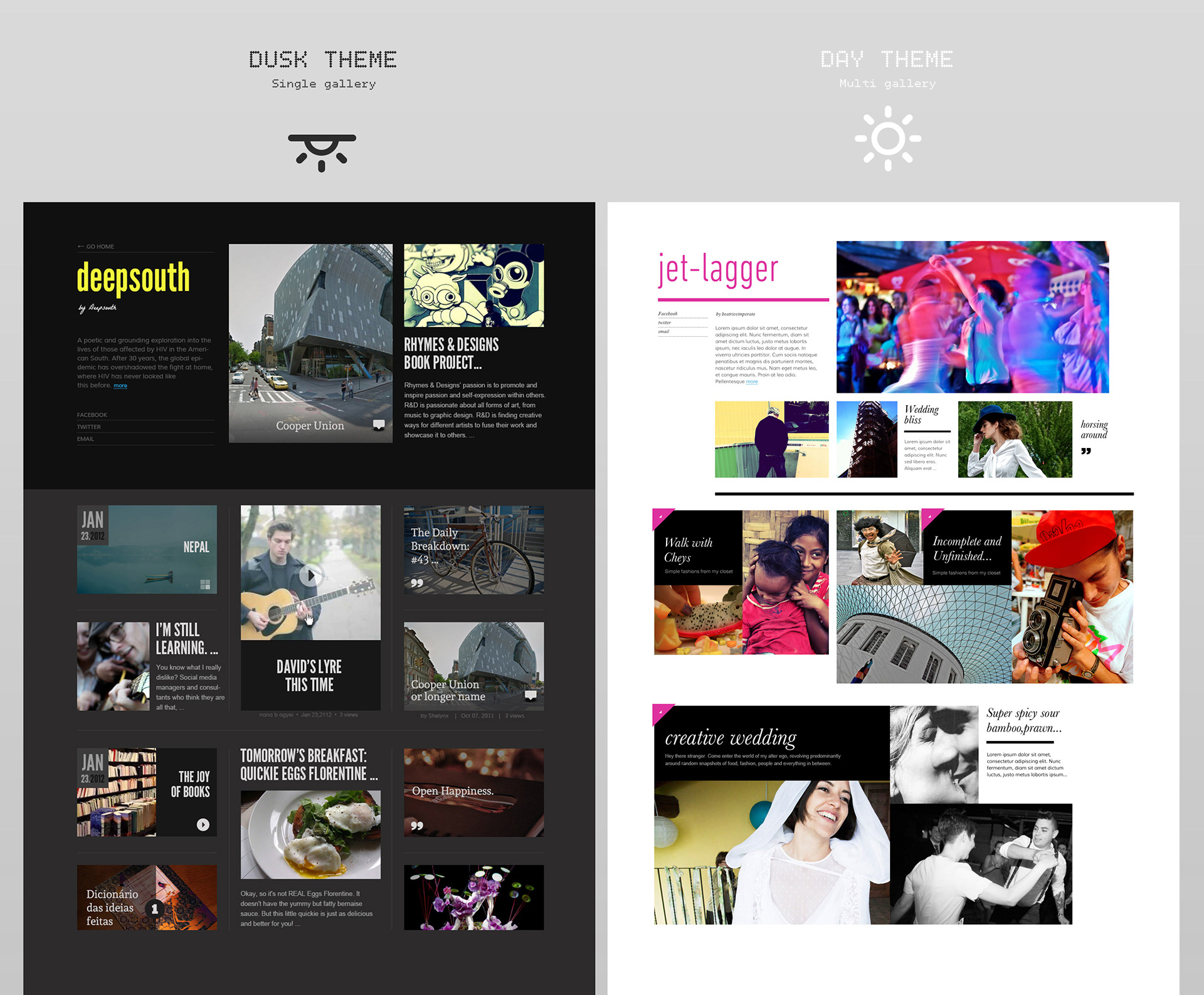 Single Gallery + Multi Galleries
Jux provided a single gallery page for members to showcase content in a continuous stream. Several months after the initial launch, some users wanted an easier way to organize and find content. The development of multi-gallery allowed for theme-based creation.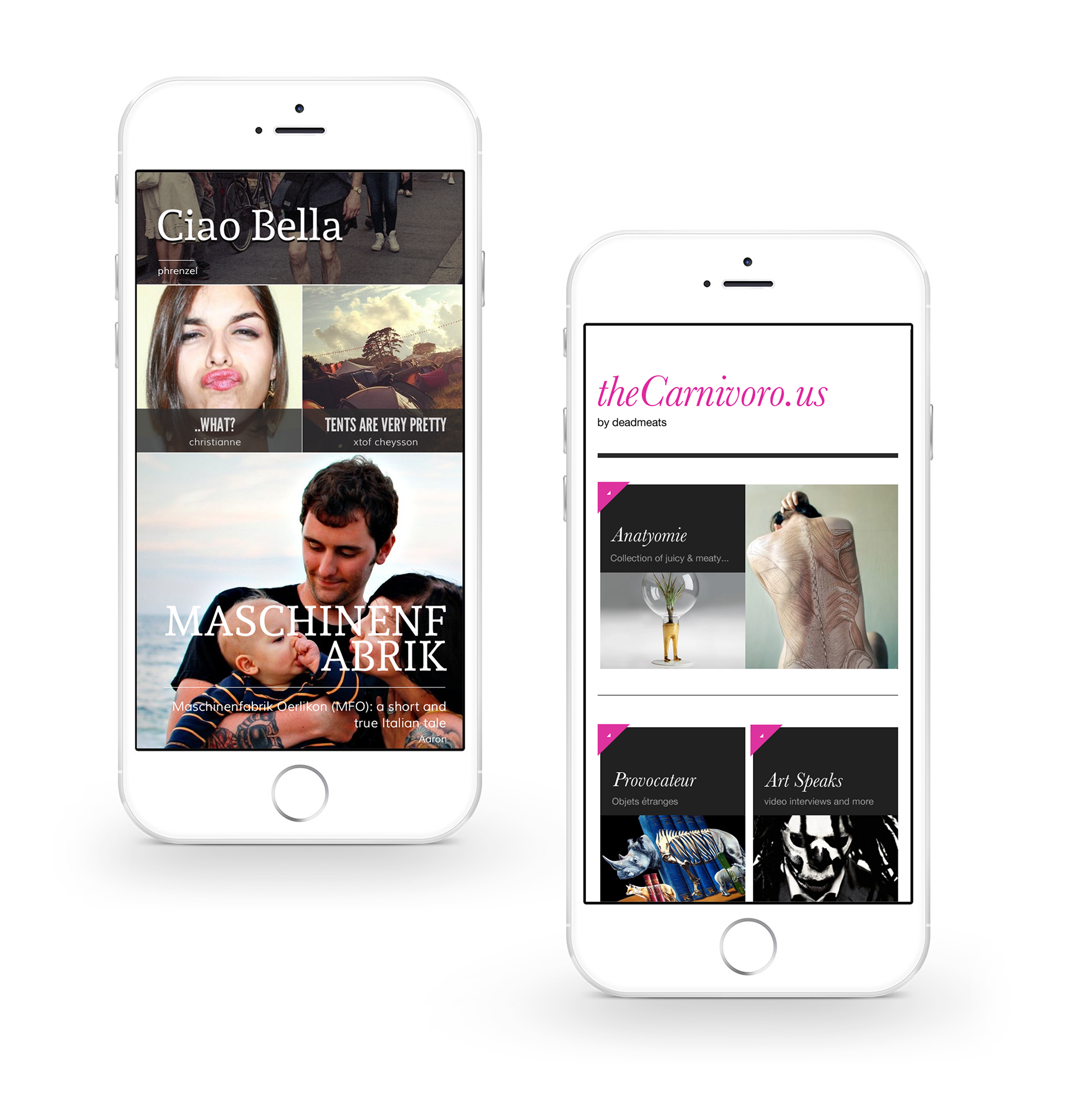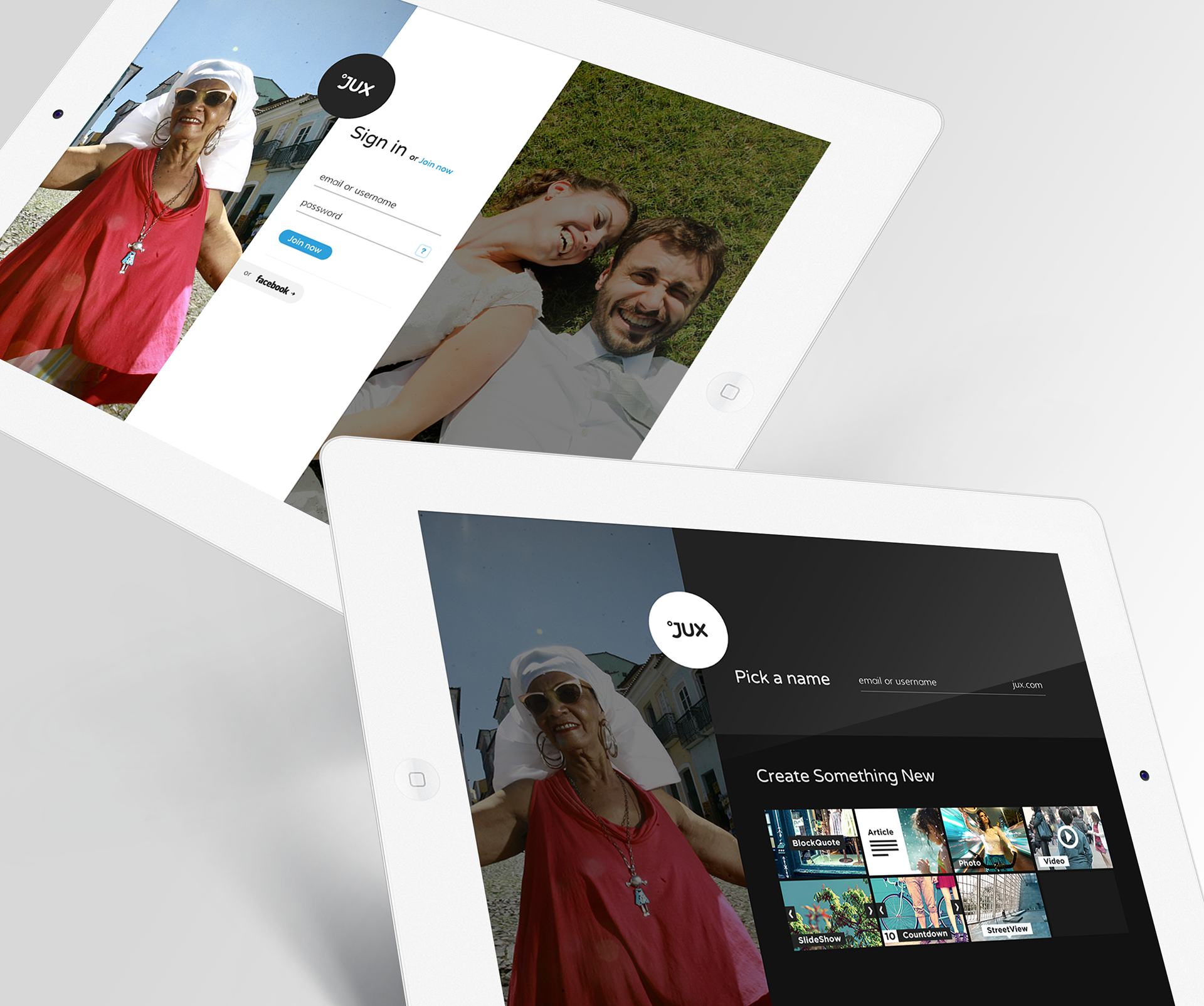 Simple Sign Up to Creation
To align with a simplified product experience, implementing a single-step signup workflow helped improve the daily creation rate. The new design was intuitive and straightforward, providing visual cues without the need for onboarding.​​​​​​​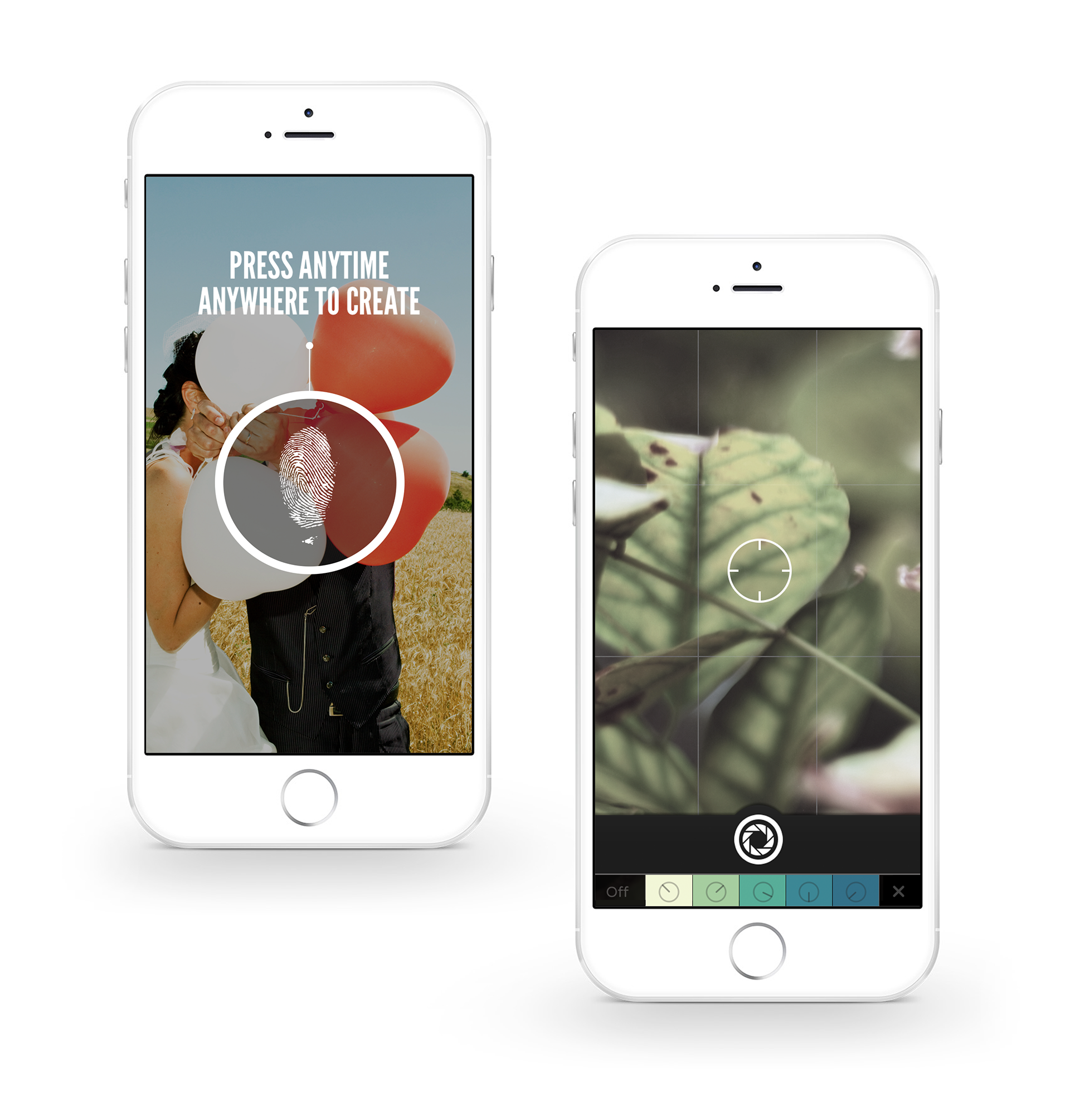 "Blockquotes" allowed users to post only full-screen images. The post-launch results were varied and unexpected, with many using small-size photos instead of using HD images. After seeing pixelated and blurry results, we worked on alternative layouts that would accommodate various image sizes. ​​​​​​​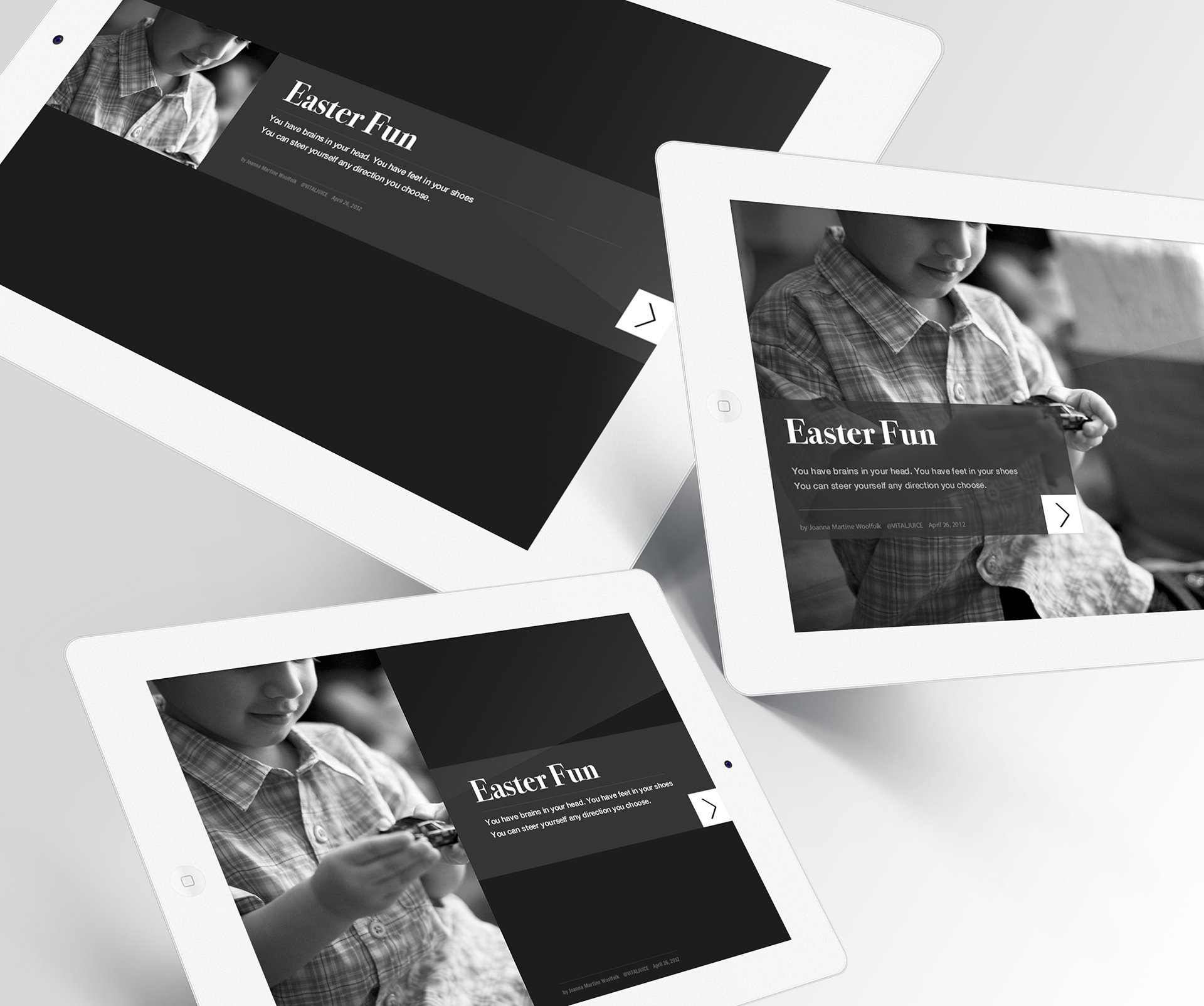 The smart layout offers users some customization while minimizing low-quality designs and errors.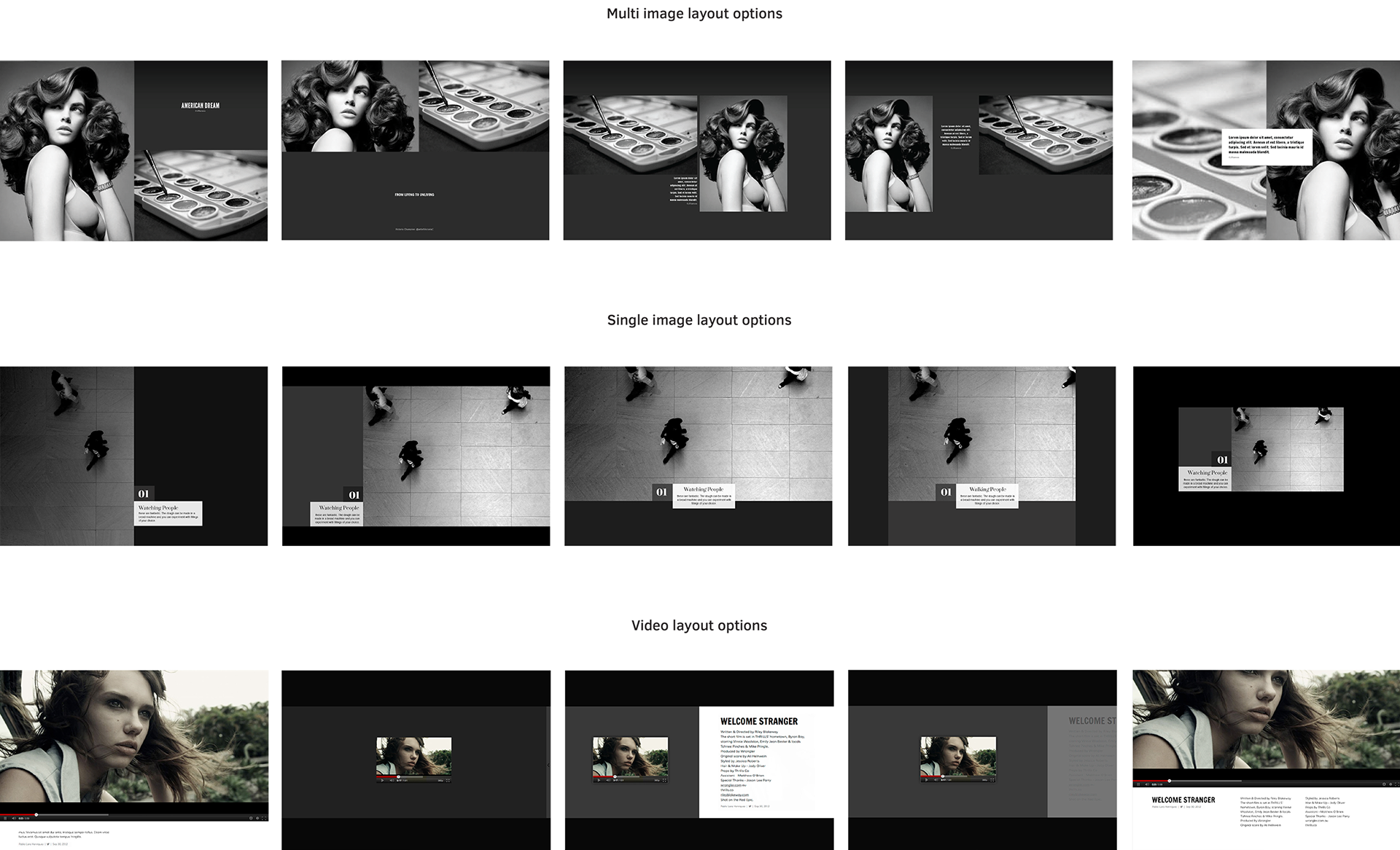 Marketing Campaigns + Partnerships​​​​​​​
Partnerships with style bloggers helped Jux increase users' sign up globally with blogging partners in Asia, UK, Netherlands, and the US. Jux provided branded content marketing opportunities for independent film studios, local retail shops, and restaurants, as they felt the platform was the right storytelling tool for their businesses.​​​​​​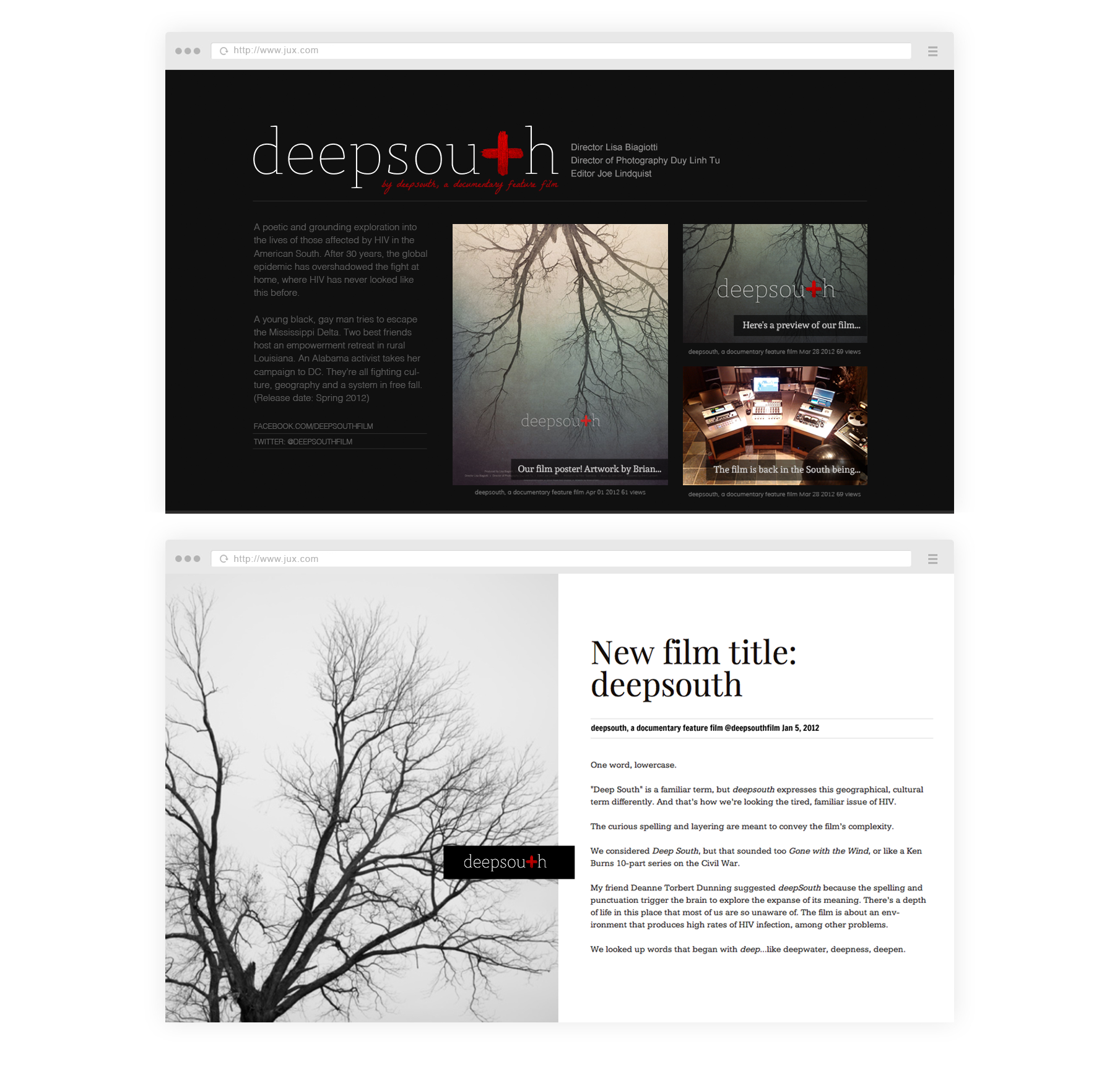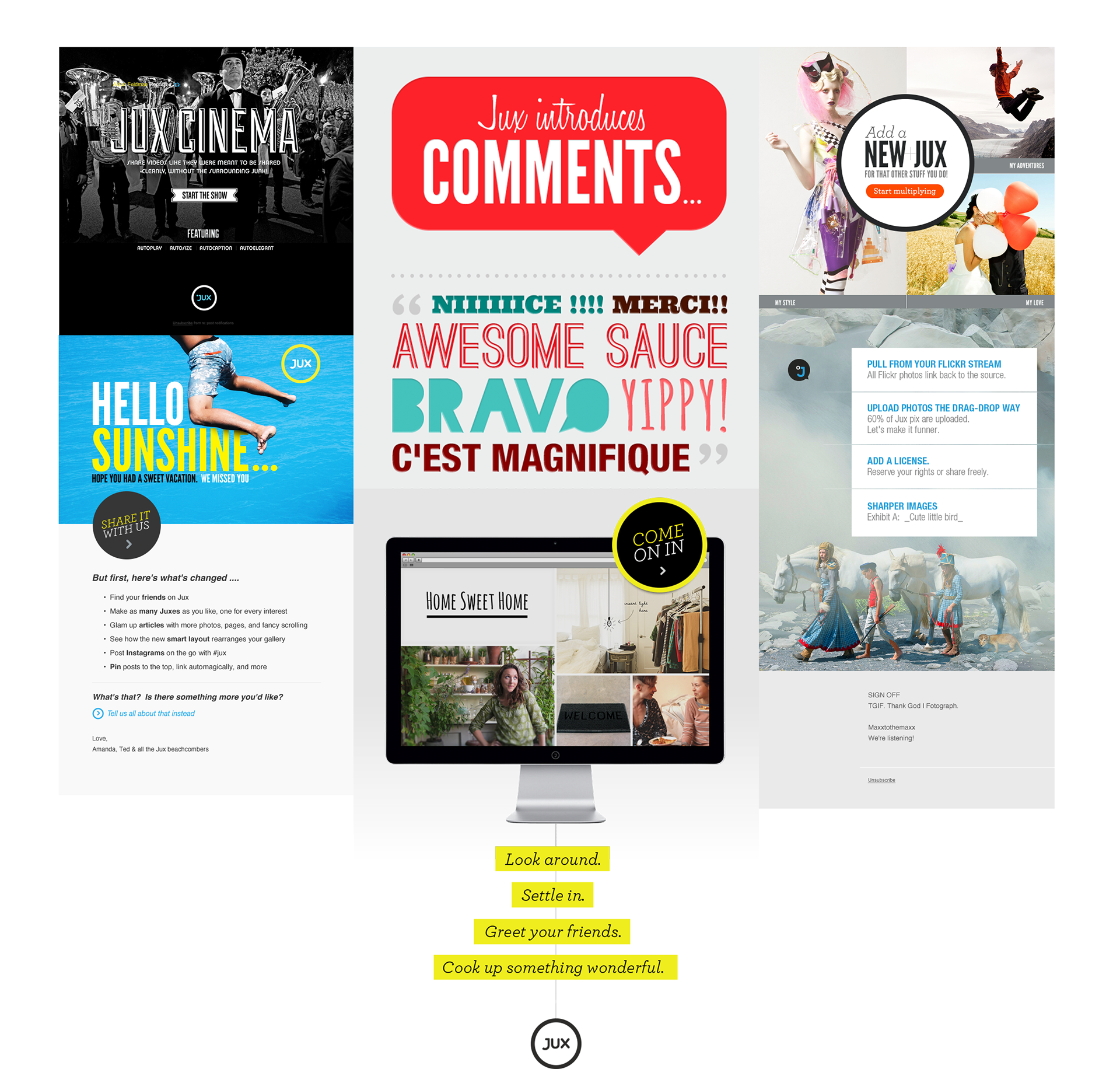 Jux's membership surpassed 200,000 users within a year, with over 60,000 monthly creations and 5 million unique visits per month. The team worked endlessly building community via partnerships with content creators worldwide. The incremental changes and product improvement help solidify and grow our online community with a fiercely loyal following. The summer of 2013 marked the end of Jux as the owner sighted slow growth, but loyal fans of Jux decided to extend the product's life for two more years until Oct 2015. ​​​​​​​​​​​​​​